New Tolling Technology
Throughout 2023, E-470 is completing a large-scale, multi-year project that will make significant technological improvements to all tolling equipment along the 47-mile roadway. The Next Generation Lane Toll System (NGLTS) Project kicked off in 2020, with many months of substantial back-office development and equipment testing. The project team successfully completed its first transition to the new technology in the summer of 2022.

NGLTS conversions are continuing one toll plaza or ramp at a time. At each tolling point, teams are replacing and upgrading transponder readers, travel lane sensors, cameras and more. The process takes a couple of days at each location, but crews leave at least one lane open at all times to keep E-470 moving. Scroll to the bottom of this page for the latest installation schedule for potential travel impacts.

What does this mean for E-470 customers? This new technology and equipment will improve tolling and billing accuracy, reliability and efficiency. It also provides the opportunity for E-470 to eventually become interoperable with other tolling agencies in the U.S. That means customers would be able to drive their vehicles with ExpressToll transponders on tollways in other states and the activity would link back to their ExpressToll account. The system will also allow E-470 to easily make additional modifications in the future to bring customers the latest and greatest in tolling technology.

In addition to working on E-470 tolling equipment, the Authority also supported its partners at the Colorado Department of Transportation and its tolling arm, the Colorado Transportation Investment Office (CTIO), in the go-live of the I-70 Mountain Express Lanes. The next generation lane toll system was installed and integrated at this new location as well. Tolling began on the Westbound Mountain Express Lanes in early July 2022. The 12-mile managed lane stretches from the Veterans Memorial Tunnel to Empire.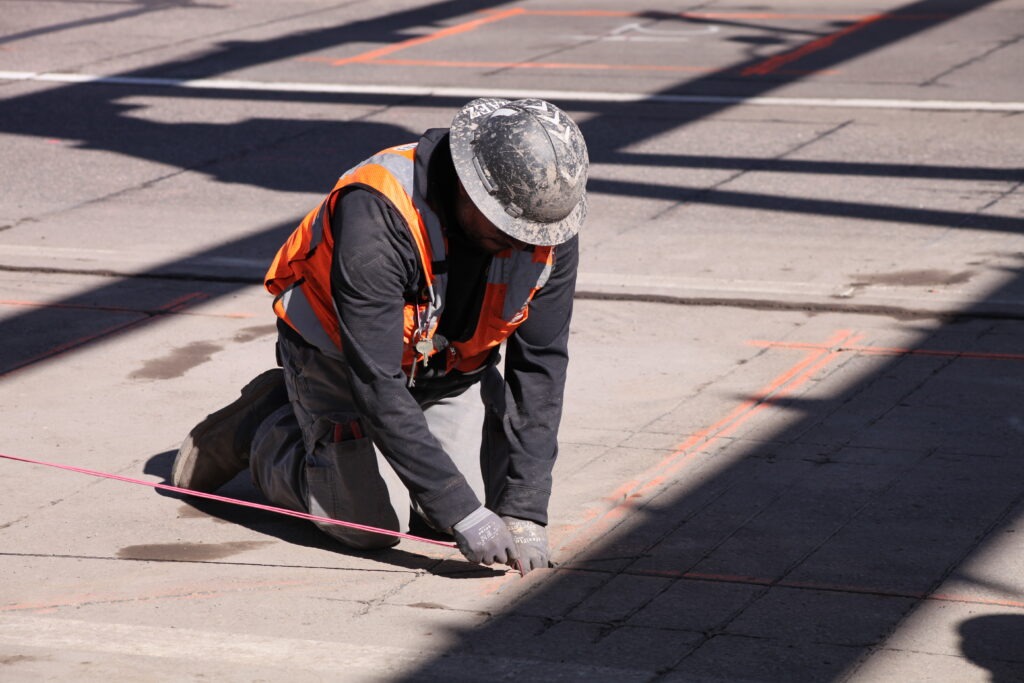 Potential Travel Impacts
Below you will find a list of each E-470 tolling point and the anticipated installation date. At least one lane of travel will remain open during the work at these locations. Due to the nature of the work completed during an NGLTS conversion, weather can significantly impact the ability to install new equipment. This schedule will likely change, so keep an eye on E-470's Twitter page for the latest traffic advisories. Click here to view a map of E-470, which labels toll plazas A-E. NB = northbound and SB = southbound.
Toll Plaza E SB: COMPLETE
Toll Plaza E NB: COMPLETE
Toll Plaza C NB: COMPLETE
Toll Plaza C SB: COMPLETE
Toll Plaza A NB: COMPLETE
Quebec St. NB & SB ramps: COMPLETE
Toll Plaza A SB: COMPLETE
Colorado Blvd. NB & SB ramps: COMPLETE
York St. NB & SB ramps: COMPLETE
Toll Plaza D NB & SB: COMPLETE

All dates below are weather dependent and subject to change.


Peoria St. NB & SB ramps: 5/23/23 – 5/25/23
Toll Plaza B NB: 6/2/23 – 6/4/23
Chambers Rd. NB & SB ramps: 6/6/23 – 6/8/23
Toll Plaza B SB: 6/9/23 – 6/11/23
Jordan Rd. NB & SB ramps: 6/13/23 – 6/15/23
Quincy Ave. NB ramp: 6/20/23 – 6/22/23
Gartrell NB ramp: 6/20/23 – 6/22/23
Quincy Ave. SB ramp: 6/24/23 – 6/25/23
Jewell Ave. NB & SB ramps: 6/27/23 – 6/29/23
6th Pkwy. NB & SB ramps: 7/8/23 – 7/9/23
US85 NB & SB ramps: 7/11/23 – 7/13/23
64th Ave. NB & SB ramps: 7/15/23 – 7/16/23
120th Ave. NB & SB ramps: 7/18/23 – 7/20/23
96th Ave. NB & SB ramps: 7/22/23 – 7/23/23
Smoky Hill Rd. NB ramp: 7/25/23 – 7/27/23
Gartrell Rd. SB ramp: 7/28/23 – 7/30/23
Smoky Hill Rd. SB ramp: 7/28/23 – 7/30/23
38th Ave. NB & SB ramps: 8/5/23 – 8/6/23
56th Ave. NB & SB ramps: 8/12/23 – 8/13/23
104th Ave. NB & SB ramps: 8/19/23 – 8/20/23
Related Information
Driving E-470
Learn more about the technology on E-470 that makes driving a breeze.
Learn More
Snow Removal
Learn more about E-470's snow removal efforts.
Learn More