Improving Your Journey Through Safety, Service, Stewardship, and Reliability.
About E-470
Paying Tolls with ExpressToll
Customers with an ExpressToll account save on tolls over License Plate Toll customers. An ExpressToll account requires an initial deposit of $35 (check or credit card accepted) in pre-paid tolls. Once you drive the road, your tolls are automatically deducted from your account.
Complete Details

How ExpressToll Works
ExpressToll customers have registered their vehicle information in an online account, and they receive a transponder to install in their vehicle. When passing through a tolling point, the transponder is scanned and the toll is automatically deducted from the prepaid account balance.
Complete Details
Account Login

How LicensePlateToll Works
For a vehicle without an ExpressToll account, cameras capture an image of the license plate, and an invoice is mailed to the registered owner. Because of the cost associated with mailing an invoice, LicensePlateToll customers are not eligible for discounts/benefits that come with an ExpressToll account.
Complete Details
Pay Your Toll Bill
E-470 Improves Your Journey
The 75-mph tollway forms a 47-mile semi-circular beltway around the eastern perimeter of the Denver metro area and provides access to Denver International Airport. E-470 connects in the south to the I-25/C-470 interchange in Douglas County, and connects in the north to the I-25/Northwest Parkway interchange in Adams County.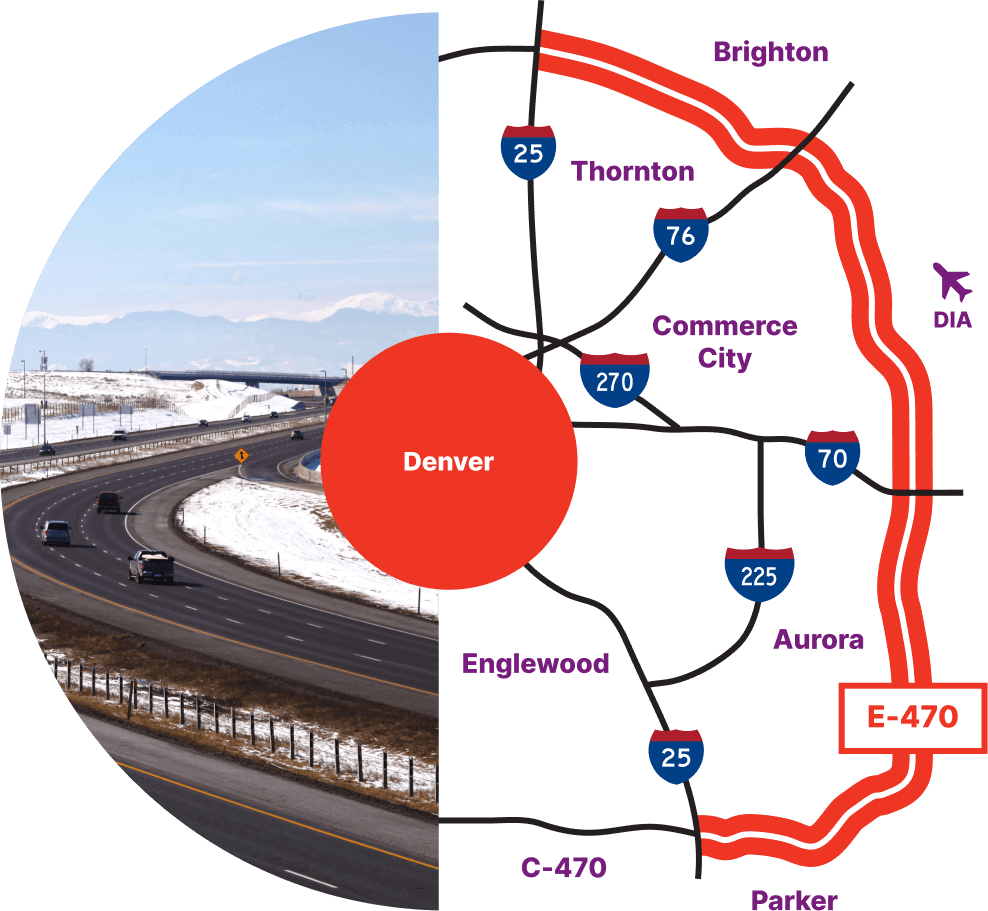 News & Updates
Stay informed about E-470, ExpressToll, and other related information with our newsletter, news releases, annual customer survey, and more.
View All News & Updates
E-470 Road Updates

Twitter feed is not available at the moment.
View All Road Updates