Solar Energy Production and Electric Vehicle Project
By replacing the generation of electricity with solar energy, E-470's efforts alone will stop the production of 24,000 metric tons of carbon dioxide (CO2) emissions over 20 years. We began the E-470 Solar Project in 2012 with the goal of eliminating the need for imported oil to be used in the conventional generation of electricity. In 2021, E-470 Public Highway Authority purchased all solar generating facilities on Authority property and now offsets an average of 44% of total energy cost on a yearly basis. In 2017, we launched another green initiative with our Electric Vehicle Project. At E-470, we're demonstrating our commitment to sustainability and providing green options to customers, employees, and our community. In 2022, we upgraded the vehicle charging stations with two ChargePoint Express 250 high-power DC chargers. The Authority is proud to continue to offer free charging at these stations to customers, employees, and the community.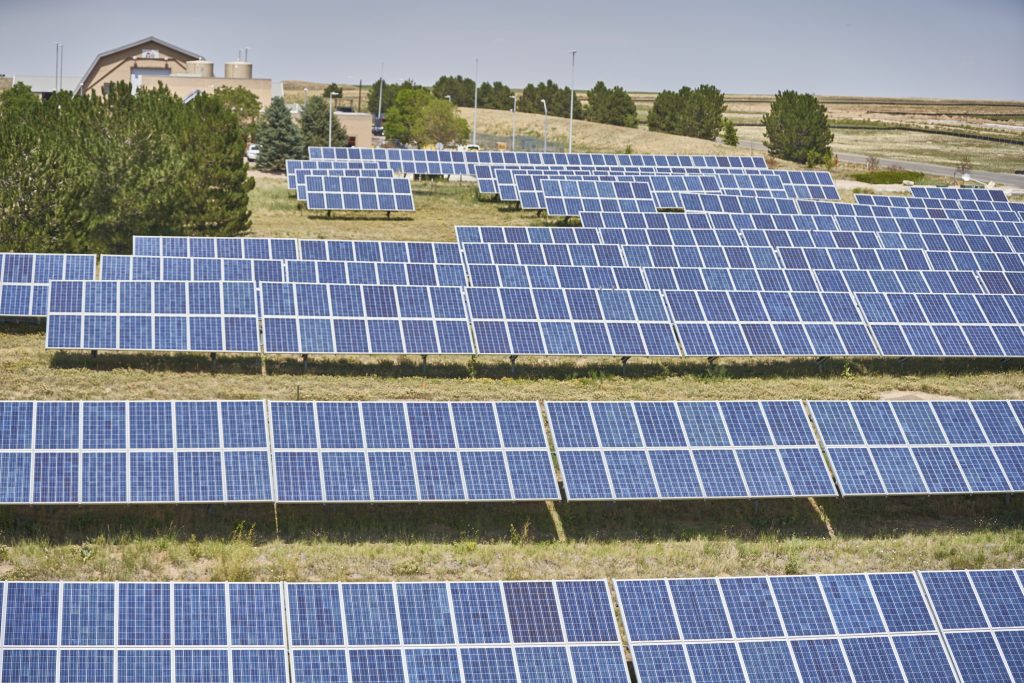 Since December 2021, we have produced 11 million kWh of solar energy, enough to cancel out 5,786,000 vehicle miles traveled. Our very own Headquarters Building is the 3rd highest producer of solar energy on the road. The highest producing areas are the arrays at the 6th Pkwy./Stephen D. Hogan Pkwy. and Colfax Ave. ramps.

Solar Project By the Numbers
0
years energy production
0
million total kWh solar energy produced
0
buildings with solar arrays
0
ramps with solar arrays
E-470's Electric Vehicle Project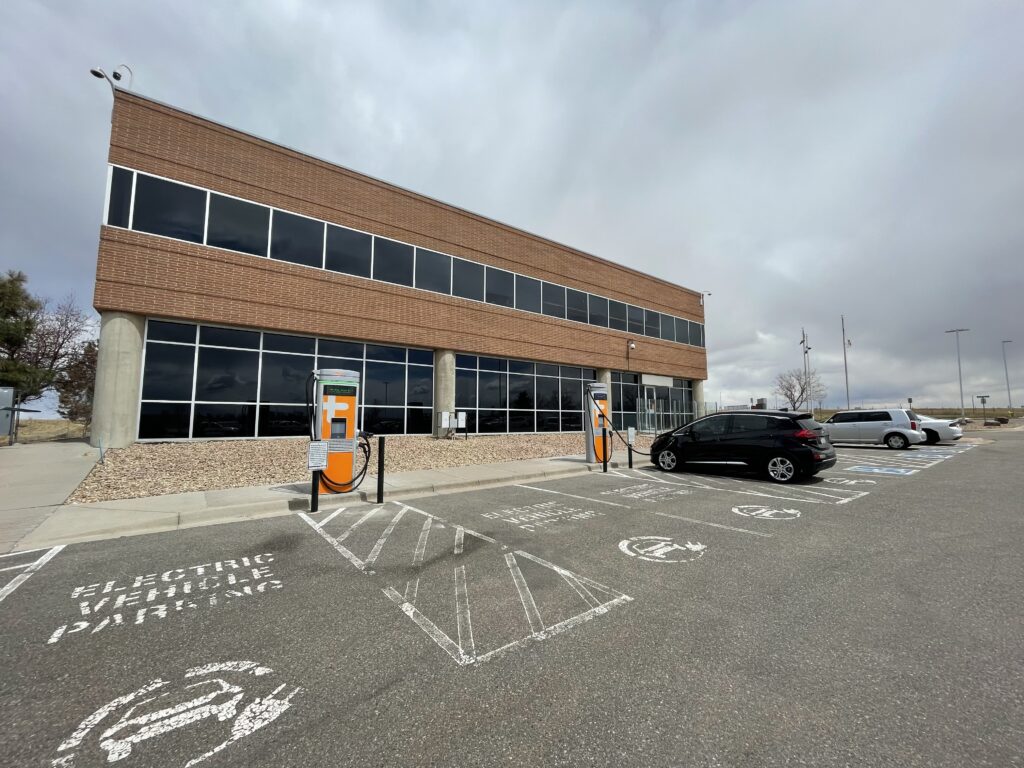 E-470 offers two Chargepoint "DC Fast Charge" electric vehicle (EV) charging units free of cost to the public. EV drivers with a DC fast charge port can now "juice up" on their drive to Denver International Airport. Sign up with ChargePoint and start charging your EV today!

These fast charging stations offer two types of plug-ins: CHAdeMO and SAE combo cords. Most fast chargers deliver an 80% charge in approximately 30 minutes.

The EV charging units are located at the E-470 headquarters building at 22470 E. Stephen D. Hogan Parkway in Aurora, Colorado, directly in front of the ExpressToll Service Center walk-up entrance in the northwest corner of the parking lot. The units are part of the ChargePoint network, which gives customers access to charging station details in mobile apps, online and in-navigation systems.

Click here to view the customer policies and procedures related to use of E-470's EV charging units.
Who Can Use It?
Electric vehicles outfitted with a DC fast charge port can utilize these charging units. including: BMW i3; Chevy Bolt EV; Chevy Spark EV; Kia Soul EV; Mitsubishi i-Mi EV; Nissan LEAF; Volkswagen eGolf; Tesla (requires a CHAdeMO adapter; please note you may need to adjust the amps down to a lower level in your vehicle's settings in order for the unit to charge your vehicle).