Solar Energy Production and Electric Vehicle Project
By replacing the generation of electricity with solar energy, E-470's efforts alone will stop the production of 24,000 metric tons of carbon dioxide (CO2) emissions over 20 years. We began the E-470 Solar Project in 2012 with the goal of eliminating the need for imported oil to be used in the conventional generation of electricity. In 2021, E-470 Public Highway Authority purchased all solar generating facilities on Authority property and now offsets an average of 44% of total energy cost on a yearly basis. In 2017, we launched another green initiative with our Electric Vehicle Project. At E-470, we're demonstrating our commitment to sustainability and providing green options to customers, employees, and our community. In 2022, we upgraded the vehicle charging stations with two ChargePoint Express 250 high-power DC chargers. The Authority is proud to continue to offer free charging at these stations to customers, employees, and the community.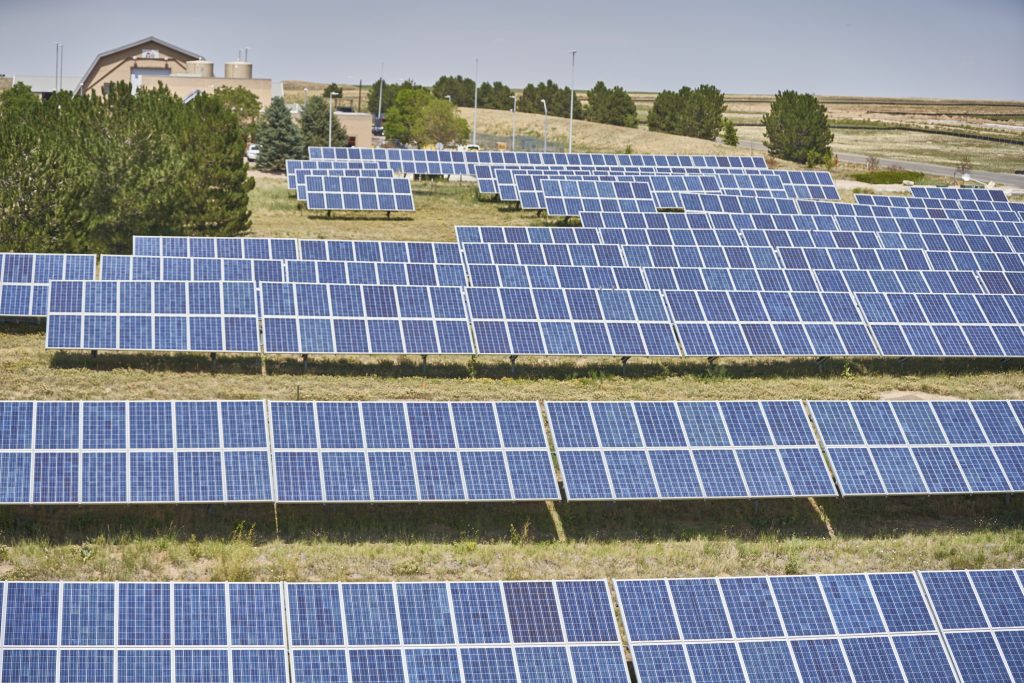 Since December 2012, we have produced over 12 million kWh of solar energy, enough to cancel out 6,000,000 vehicle miles traveled. Our very own Headquarters Building is the 3rd highest producer of solar energy on the road. The highest producing areas are the arrays at the 6th Pkwy./Stephen D. Hogan Pkwy. and Colfax Ave. ramps.

Solar Project By the Numbers
0
years energy production
0
million total kWh solar energy produced
0
buildings with solar arrays
0
ramps with solar arrays
E-470's Electric Vehicle Project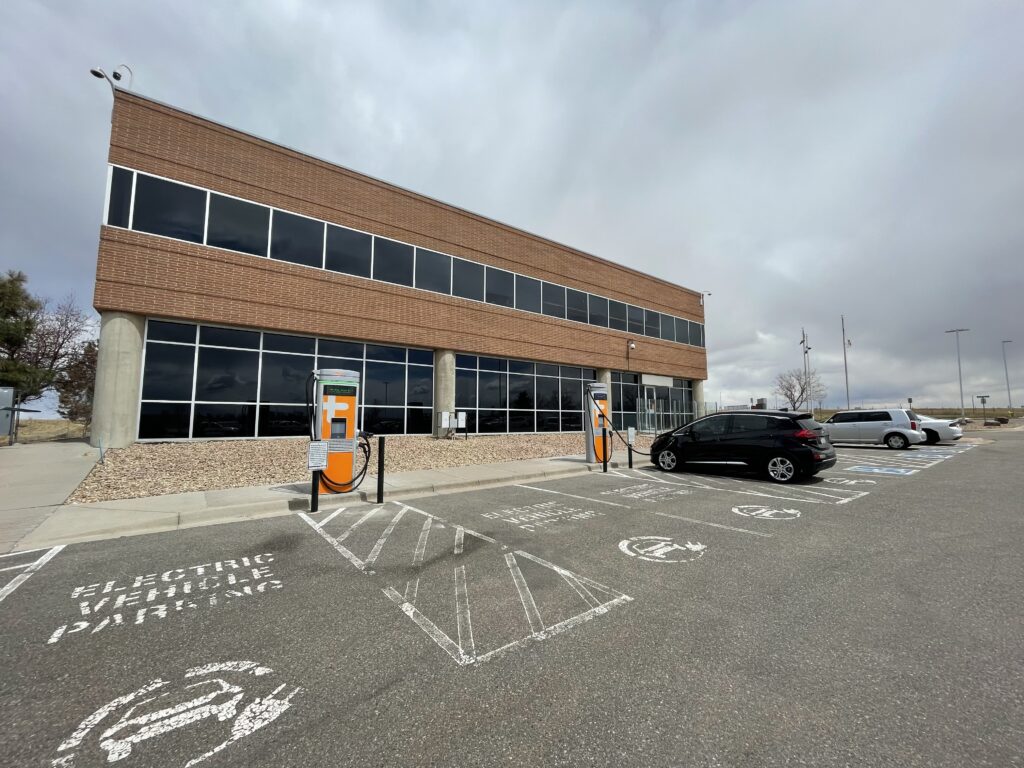 E-470 offers four Chargepoint "DC Fast Charge" electric vehicle (EV) charging units free of charge to the public. EV drivers with a DC fast charge port can now "juice up" on their drive to Denver International Airport. Sign up with ChargePoint and start charging your EV today!

These fast charging stations offer two types of plug-ins: CHAdeMO and SAE combo cords. Most fast chargers deliver an 80% charge in approximately 30 minutes.

The EV charging units are located at the E-470 headquarters building at 22470 E. Stephen D. Hogan Parkway in Aurora, Colorado, in the northwest corner of the parking lot. The units are part of the ChargePoint network, which gives customers access to charging station details in mobile apps, online and in-navigation systems.

Click here to view the customer policies and procedures related to use of E-470's EV charging units.
Who Can Use It?
Electric vehicles outfitted with a DC fast charge port can utilize these charging units. including: BMW i3; Chevy Bolt EV; Chevy Spark EV; Kia Soul EV; Mitsubishi i-Mi EV; Nissan LEAF; Volkswagen eGolf; Tesla (requires a CHAdeMO adapter; please note you may need to adjust the amps down to a lower level in your vehicle's settings in order for the unit to charge your vehicle).
Improving Water Quality
The Cherry Creek and Barr Milton Watersheds are adjacent to E-470, and the E-470 Public Highway Authority plays a role in keeping those watersheds clean through a permit with the Colorado Department of Public Health and Environment. In 2021, E-470 renewed its permit through 2026 to continue keeping waterways clean to support recreational use and aquatic life in Colorado. The permit is a Non-Standard Municipal Separate Stormwater Permit, also known as MS4, which covers various areas along the E-470 corridor. As part of the MS4 permit, E-470 educates its customers about steps they can take to reduce pollutants in stormwater runoff, such as properly disposing of waste, as these pollutants can potentially get picked up in stormwater when it rains or snows (illicit discharges). Pollutants of concern that could mix with stormwater runoff include trash, motor vehicle fluids, sediment, and nutrient sources like fertilizers and pet waste.

In addition to educating the public, the Authority utilizes best management practices such as spot spraying to remove unwanted vegetation around E-470 to minimize its use of herbicides. The chemicals in herbicides can potentially enter stormwater runoff and end up in local waterways.
Help E-470 Improve Water Quality
Don't Throw Trash or Litter on the Roadway, Every Litter Bit Hurts
It is considered illegal dumping when any junk, garbage, or debris is left on public or private property without the consent of the owner, which includes roadsides. Illegal dumping is prohibited on and around E-470 with fines up to $500. If you catch someone illegally dumping along the roadway, you're encouraged to call E-470 Roadside Assistance at (303) 537-3400 for help 24 hours a day, seven days a week. In addition to responding to calls, Roadside Assistance proactively removes litter and debris along E-470 to keep travel lanes clear and prevent debris from ending up in a waterway.

Recycle Leftover Paint
Paint products can be harmful to the environment if not properly disposed of. Most leftover paint can be recycled at no cost to you at one of the many sponsored PaintCare drop-off locations. To find the nearest drop-off site, use PaintCare's online search tool at paintcare.org or call the PaintCare hotline at 1-855-724-6809.

Secure Your Load and Check Your Car Fluids
Unsecure loads contribute to about 80% of debris on roadways. A load is secure when nothing can slide, shift, fall or become airborne while the vehicle is driven.
Motor vehicle fluids that leak onto the roadway are washed into the nearest storm drain when it rains or snows, which then takes those fluids to the nearest waterway. With so many vehicles on E-470, this can add up. Fix car leaks right away, and until a repair can be made, use a drip pan to catch leaks when possible. Kitty litter is also another great tool to absorb dripping car fluids, which you can then sweep up and dispose of in the trash. Never use water to wash away oil or other leaky fluids.
Nutrients and Fertilizers
Excess nutrients are one of the most abundant pollutants in stormwater runoff that impacts waterways, including the Cherry Creek, Barr Lake, and Milton Reservoirs. Phosphorous and nitrogen can be found in fertilizers, herbicides, pesticides, and pet waste. Too much nitrogen and phosphorous in the water causes algae (including chlorophyll a) to grow faster than ecosystems can handle, resulting in low dissolved oxygen levels which impacts fish and other aquatic life. Although algae are a natural part of freshwater ecosystems, too much of it can cause aesthetic problems, such as green scum and odors. Algae could also become a public health concern when found in high concentrations.

There are several things you can do to reduce the potential of nutrients from getting into our waterways. For more information, view these helpful brochures from E-470, the Barr Milton Watershed Association, Colorado Stormwater Council, and Arapahoe County SPLASH.

E-470 partners with the Colorado Stormwater Council, Arapahoe County SPLASH, Cherry Creek Basin Water Quality Authority, and Barr Milton Watershed Association to take a collaborative approach to educate people about ways to improve water quality with a strong focus on the Cherry Creek, Barr Lake, and Milton Reservoirs.
Litter Removal
E-470 Roadside Assistance and dedicated litter removal teams address trash and large items discarded along the 47-mile roadway throughout the year. In the spring of 2023, a 14-person team took on a massive four-week litter sweep. Here's what they were able to accomplish in that time:
0
thousand bags of trash collected
While our teams did an amazing job cleaning up along the roadway, we still need E-470 commuters to do their part in keeping Colorado beautiful! Avoid littering, intentionally or unintentionally, by keeping trash inside your vehicle and properly securing anything you transport.