Construction Underway on E-470 Road Widening & Trail Expansion From I-70 to 104th Avenue
People choose to take E-470 because it provides a quick, safe, and reliable commute. To maintain this level of service, E-470 must build more capacity now to stay ahead of population growth coming to the region to keep people moving in the east Denver metro area. Since 2016, E-470 has been working to build more capacity on its 47-mile roadway and has also built more than 12.5 miles of the High Plains Trail through its road widening projects.


In fall 2022, E-470 will begin construction on the next phase of road widening and will add a third travel lane in each direction from I-70 to 104th Avenue to help move more people along this 11-mile stretch and stay ahead of population growth in the area. The project also includes a four-mile extension of the High Plains Trail, which runs adjacent to the roadway. A new concrete multi-use path will be built from 26th to 64th Avenues to provide better connections to other trails in the region for people on bikes and on foot. The goal is to eventually connect the High Plains Trail to Pena Boulevard and continue extending it further north.


Additional Travel Enhancements
New interchanges at 38th Avenue and at 48th Avenue
Expanding the existing interchange at 64th Avenue and widening the bridge over E-470 as new development moves toward the airport, just east of the Gaylord Rockies Resort and Convention Center
Building a collector road at the E-470 northbound interchange with Pena Boulevard (like the southbound Pena interchange), which will enhance safety by separating traffic on the interchange from mainline through-traffic.
New deer fencing to protect wildlife and reduce vehicle-wildlife collisions on the roadway.
Freshly paved asphalt surface to provide a smoother ride

Crews will work in phases, beginning at the southern end of E-470 from I-70 to north of Pena Boulevard. As the project gets underway, E-470 will notify its customers in advance about potential travel impacts. The project is anticipated to be complete by 2025.

Want to be the first to know about potential travel impacts and project milestones? Click here to join our project updates email list.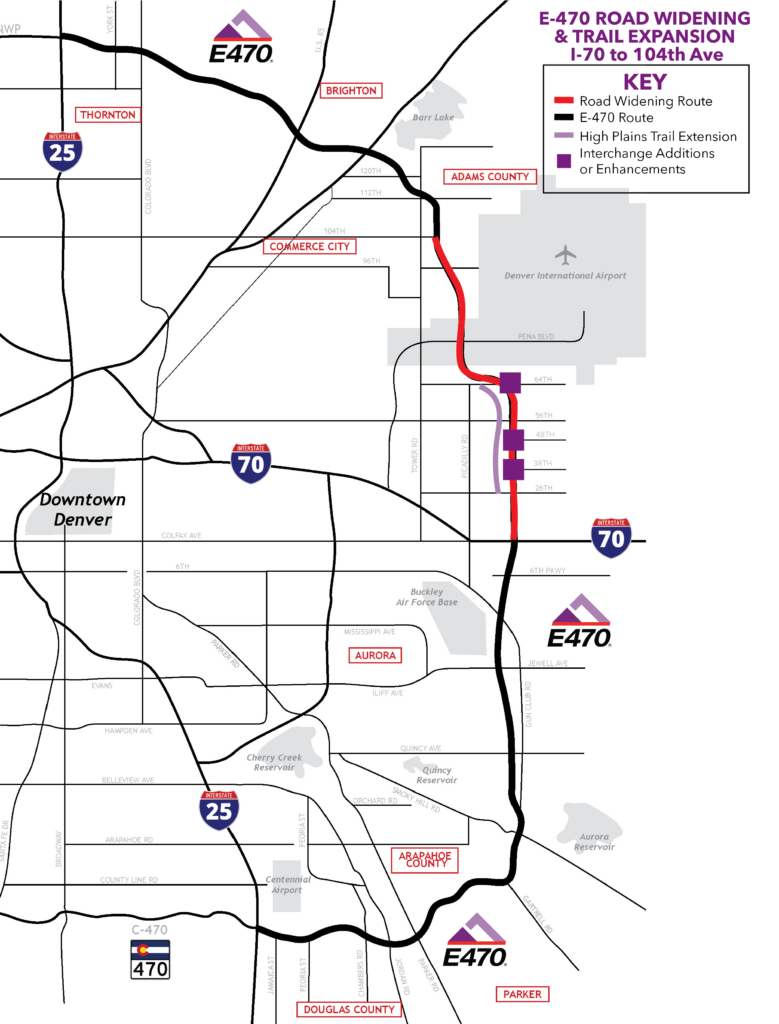 Project Materials
Questions about the Project?
You can contact the project team by phone at (303)376-0256, by email at roadwidening@e-470.com, or by filling out the form below.
Previous Roadway and Trail Improvements
In 2021, the E-470 Public Highway Authority added a third travel lane in each direction from Quincy Avenue to I-70 and extended the High Plains Trail by six miles. Additionally, the project expanded bridges, installed new entrance/exit ramps, upgraded traffic signals, improved drainage for stormwater runoff, and paved the roadway with fresh asphalt to provide a smoother ride.

Fun Facts:
• More than 7,200 cubic yards of structural concrete was poured.
• 180,000 tons of asphalt was rolled out
• 15 miles of new or reset wildlife fencing was installed along the roadway to reduce vehicle-wildlife crashes on the roadway
• 800,000 cubic yards of earthwork was completed.

The project spanned over two years for a total cost of $94.4 million, which was under budget and funded from Authority capital reserves as planned. Watch the video below to learn more!