Information and Construction Updates
The next phase of E-470 road widening will start in 2022 and take place from I-70 to 104th Ave. These projects to widen the road allow E-470 to ensure a safe and reliable commute for our customers, improving mobility and accommodating projected growth to maintain a free-flow of traffic in the coming years. Click here to sign up for email updates from E-470 about this project.


February 2021 Project Update
Construction crews are completing the final touches on the Road Widening Project with the new lanes fully open and construction zone speeds increased back to 75 mph on Monday, February 1. The project construction areas stretched along eight miles of E-470 from Quincy Ave to I-70, adding a third lane, expanded bridge structures, new on-off ramps, upgraded signals, improved drainage, new asphalt paving, High Plains Trail work and more.

The $99 million project was funded entirely by E-470, with no local, state or federal funds, and without increasing toll rates. The project video can be viewed below.
Project Highlights
• More than 7,200 cubic yards of structural concrete was poured.
• 180,000 tons of asphalt was placed.
• 15 miles of new or reset wildlife fencing was installed along the roadway.
• 800,000 cubic yards of earthwork was completed.


Construction began in the summer of 2019, and has involved the following partners:
• SEMA Construction and Kraemer North America
• Felsburg Holt & Ullevig
• Alfred Benesch & Company
• Arapahoe County
• Arapahoe Parks and Recreation District
• City of Aurora
• Colorado Department of Transportation
• East Metro Trails Working Group
• SARIA
• SEMSWA
• Union Pacific Railroad

Construction work continues this year on the six-mile High Plains Trail extension, running from Quincy Avenue to Stephen D. Hogan Parkway. Four miles of the 10-foot-wide (plus two 2-foot wide shoulders) concrete bicycle and walking trail extension have been finished, with completion of the remainder of the extension scheduled later this spring. Additional tie-in and connectivity for the trail is being explored by local jurisdictions and stakeholders including the Town of Parker, Aurora and Arapahoe County, with the ultimate goal of connecting to the existing Cherry Creek Trail west of Parker Rd.

High Plains Trail Extension Complete
The extension of the High Plains Trail is complete, and the trail officially opened to the public on March 8. Running along the west side of E-470 from Quincy Ave. to Stephen D. Hogan Pkwy., the expansion connects to five neighborhoods in the region and features a 10-foot-wide concrete path in addition to two-foot-wide shoulders, providing ample paved space for pedestrians and bikers.

The expansion of the trail represents E-470's commitment to supporting member jurisdictions and local communities through access to multi-modal transportation options. Thank you to the many partners that support the expansion of this regional trail network.

Safety was a top priority for the expansion of the trail. Features include three grade-separated crossings at Hampden Ave., Jewell Ave. and CO 30, along with one at-grade crossing at Quincy Ave. Environmental and floodplain considerations were also incorporated into the final selection of the trail alignment.

Additional tie-in and connectivity for the trail is being explored by local jurisdictions and stakeholders including the Town of Parker, Aurora and Arapahoe County, with the ultimate goal of connecting to the existing Cherry Creek Trail west of Parker Rd. Future E-470 road widening activities north of I-70 will incorporate additional extension of this east metro regional trail network.

Happy Canyon Trail Closure
A portion of the Happy Canyon Trail will be closed from February 8 through March 12. Trail users can still access the Cherokee Trail via the detour shown in the map below. PLEASE NOTE: The Cherokee Trail will remain open during this time, but will be re-routed adjacent to the existing trail and will not be paved.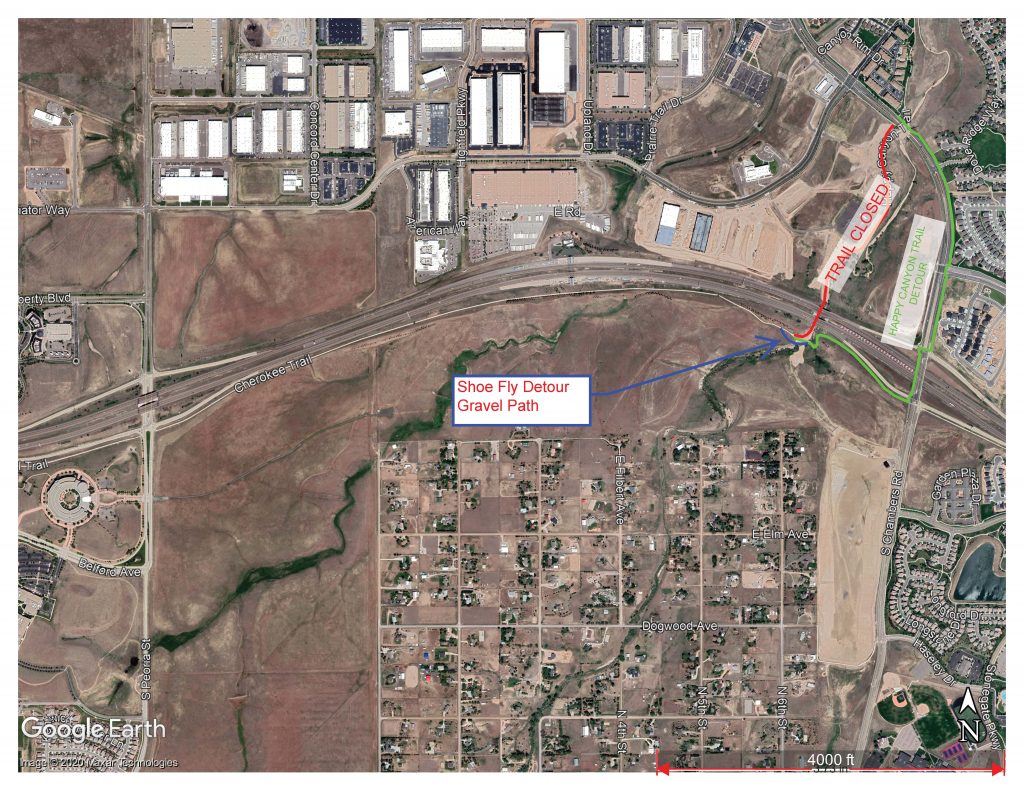 Click here to email the project team. Note that all work is weather dependent. For up-to-date closure information, visit E-470 on Facebook and Twitter.

Project Documents
Project FAQs
Project Fact Sheet
Project Schedule
Overall Project Map
Typical Road Section Layout
Typical Road Work Zone Layout
High Plains Trail Fact Sheet
Pedestrian Bridge North of Quincy Ave.
Pedestrian Underpass Jewell Ave.
Quincy Northbound Ramp Relocation

COVID-19
E-470 is committed to following guidance set by the CDC and CDPHE in helping to slow and prevent the spread of COVID-19. At this time, the road widening project taking place on E-470 from Quincy Avenue to I-70 is continuing, with strict safety measures to protect construction teams and the public.

As part of these measures, a dedicated task force has been set up to ensure project teams are adhering to the latest guidance set by public health officials. Any previously-scheduled indoor meetings have been cancelled or are now being held virtually. Crews are practicing social distancing in the course of their work and all small group meetings taking place outside are being held to maintain social distancing.

E-470 and its sub-contractors will continue to follow this guidance and are ready to adjust to any new safety measures.
Contact Us
Email us for project information and construction updates. Or call our project hotline at (303) 536-5969.
Email Us